Trunk-Or-Treat
The students, parents and teachers continued with their annual trunk-or-treat tradition on Monday, October 30th and Tuesday, October 31st. Thank you to all the parents, families and friends who made this trunk-or-treat event such a success!  Thank you also to Annunciation School and to the parish house of Cathedral of the Annunciation.  The children, parents, and teachers appreciated your generosity and warm welcome to our trunk-or-treaters.  Many adults decorated their trunks and handed out Halloween treats to all our students.  We enjoyed seeing how creative people could be with Halloween decorations and costumes!  Thank you to our awesome families! 
Donuts-For-Dads
Annunciation Preschool celebrated Donuts-For-Dads on October 10th and 11th.  
Dads, Grandpas, Uncles, and special family friends were invited to join the children and teachers for donuts for dads.  We invited them to our classroom to support the children's learning and reinforce the letter "Dd".  Thank you to everyone who joined us for this tasty event!
Pre-K Garden Keeps Growing!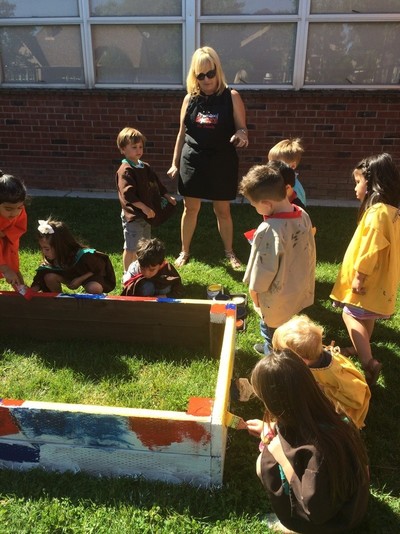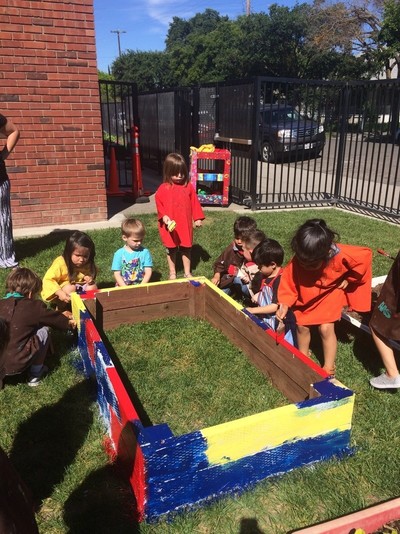 The Pre-Kindergarten students at Annunciation Preschool continue to work on their community garden!
Miss Danielle helps her preschool and ​pre-kindergarten students paint and decorate their new planter box.  Thank you to the Crawford family and other anonymous donors!
Bowl-A-Thon
Thank you to all the family and friends who joined us for our annual Bowl-A-Thon fundraiser on Saturday, September 9th.  It was incredible watching our families and children have family fun while bowling.  Our families are what makes Annunciation Preschool such a special and unique community.  Thank you for supporting Annunciation Preschool!
National Superhero Day
Students at Annunciation Preschool show some spirit and celebrate National Superhero Day.  "With great power, comes great responsibility." (Spiderman)
Annunciation Preschool Visits Bartelink Dairy
Students, Parents, and Teachers of Annunciation Preschool visit Bartelink Dairy!  
The children tour and learn about our local Dairy industry.  Thank you to Farmer John and all of his workers! You provided a memorable and educational experience for our students.
Muffins-With-Moms
Thank you to all the Mom's, Grandma's, Aunts, and even some Dad's who joined us for Muffins-With-Moms on Thursday, January 19th, and Friday, January 20th.  Thank you also for supporting literacy in early childhood education! You are an integral part of our community and help make our school so special and family-oriented.
Santa Visits Annunciation Preschool
Santa took time out of his busy schedule and visited the children at Annunciation Preschool on Tuesday, December 20th and Wednesday, December 21st.  Thank you to Santa and his elves for making this special visit possible!
Community Helper Week
Officer Katie Crawford and Officer Jackie Salwolke paid a visit to Annunciation Preschool on Tuesday, November 29th and Wednesday, November 30th.  She spoke with the children about safety and brought goody bags with coloring books and stickers. Each class had an opportunity to climb into a classic paddy wagon and also a state of the art city police car.  Thank you to Officer Katie and Officer Jackie!  Hopefully, we have a future officer or two in the making!
Thanksgiving Feast
All our children worked very hard preparing for our Thanksgiving Feast this year!  It was extremely heartwarming to see all our children and families celebrating their gratitude on our Feast Days Monday, November 21st, and Tuesday, November 22nd.  This annual event is so special because of the amazing and generous families we have in our program. Thank you to the Fite family and Miss Shannon for preparing our Turkeys for our Feasts this year!