A Message from Deacon Fidel Carrillo
On May 14, 2019, our Bishop Myron Cotta came to the Northern California Youth Correctional Center to celebrate the Sacrament of Confirmation for 5 young men housed in our facility.  Bishop Cotta shared with the young men that though they are within the prison walls, they are still of his flock and that he is their Bishop "who wants to offer them the mercy of God's love."
This was Bishop Cotta's first visit while celebrating the Sacrament of Confirmation.  Our youth were accompanied by family members and their sponsors.  This was the first time families were allowed onto the prison grounds to enter into the prison's chapel.  In the past, this celebration has been held within the visiting area of our facility.  By changing the location it allowed for a more intimate and solemn celebration of Mass and Confirmation.
We were accompanied by three choir members from the Cathedral of the Annunciation, Deacon Greg Yeager and Teri Carrillo who provided us with photos.   After the Mass and Confirmation, the celebration continued with a lunch shared as a family.  The experience was truly a blessing for all!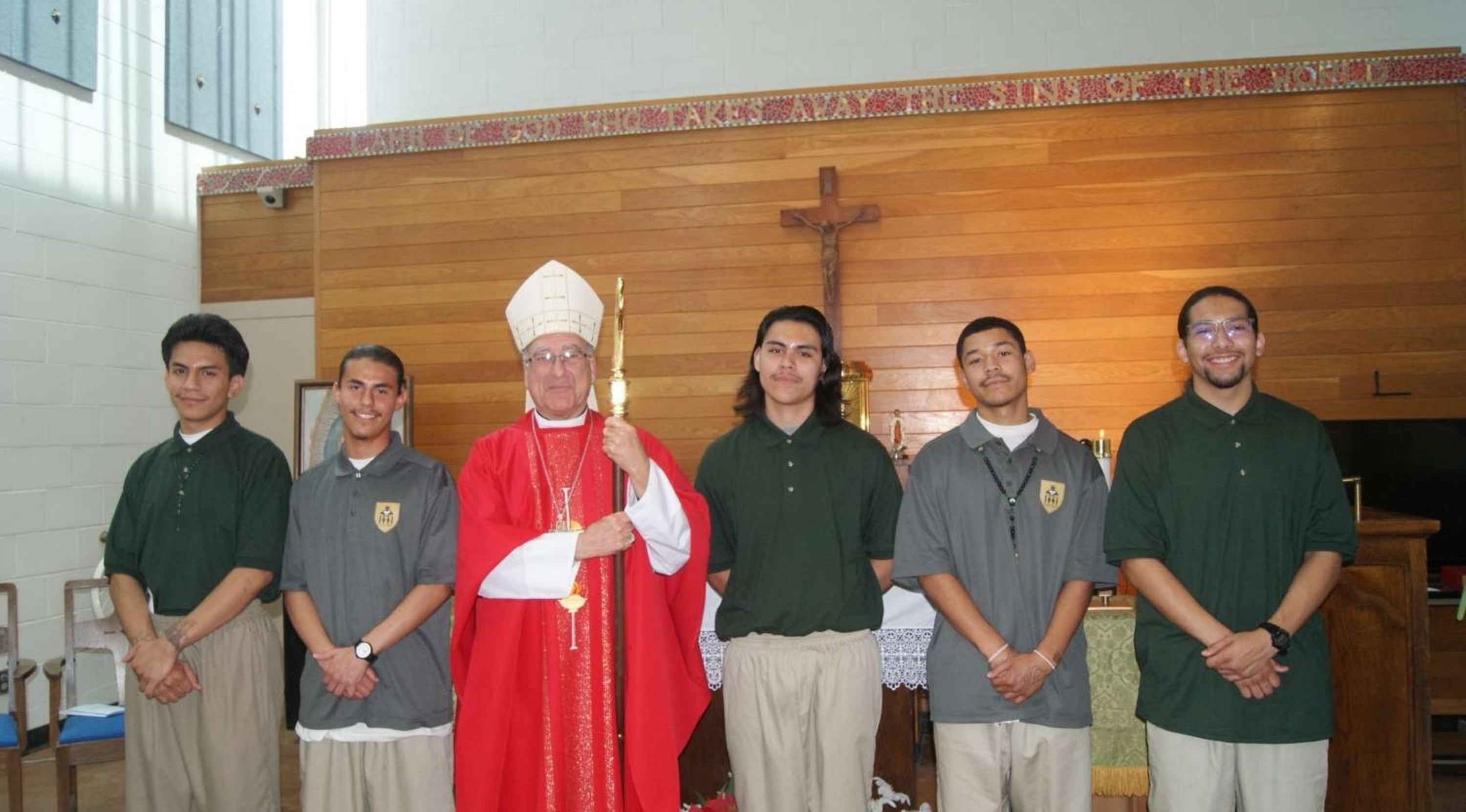 What is Social Justice?
Social Justice, in the Catholic context, is the effort to follow the seven elements of Catholic Social Teaching.
What is Catholic Social Teaching?
The United States Conference of Catholic Bishops (USCCB) has identified the following seven elements of Catholic Social Teaching.  Click on each element to learn more.
Social Justice: We are Called to Serve Others
The Social Justice Ministries at the Cathedral include Respect Life, Restorative Justice (Prison Ministry), Sharing our Daily Bread, and Migrant Ministry.  
For More Information Please Call:
Irene Killian de Ojeda at 209-463-1305
or click the e-mail link to send us a messge: Social Justice E-mail
Cops'n Coffee
"Thank you to the Cathedral Social Justice Ministry for hosting Coffee with the Police this morning at Cathedral of the Annunciation."
                                                                                                                                 - Stockton PD