Family Faith Formation Program
The mission of Family Faith Formation is to provide support to children and families that have a desire to grow in faith.
The hope of Family Faith Formation is to spark the beginning of a lifelong ongoing faith formation in the families that come to the Cathedral of the Annunciation.  Most of all, it is our prayer that families grow in their relationship with God.
Family Faith Formation sessions are held on Sunday Mornings.  
These sessions are for families who would like to prepare their children for Sacraments and for families or adults who would like to learn more about their faith. The sessions follow the seasons of the Church calendar, i.e. Advent, Lent, etc.
Come and join this exciting new faith formation! Your family can grow in faith together! 
2022-2023 Registrations
Registrations will be taking place this June!
Please bring a copy of your child's Baptism Certificate to the Parish Center (1120 N Lincoln St.) on June 6, 7, 8, 13, 14, 15 at 6:00 PM to register for the 2022-2023 formation year!
Inscripciones para el año 2022-2023
 ¡Las inscripciones se realizarán este mes de Junio!
¡Traiga una copia del certificado de bautismo de su hijo al Centro Parroquial (1120 N Lincoln) el 6, 7, 8, 13, 14, 15 de Junio a las 6:00 PM para inscribirse para el año de formación 2022-2023!
Family Faith Formation Program ~ Programa de Formación de Fe
St. Pius X Catechetical Awards 2021
Congratulations to the Annunciation catechists who received special recognition at the St. Pius X Catechetical Awards.
Annunciation Parish Catechetical Awardees:
Ana Isela Alvarez- 5 years
Hilda Iñiguez- 15 years, Maria Vargas Perez- 20 years
Darlene Samson- 30 years, Dixie Carrillo- 35 years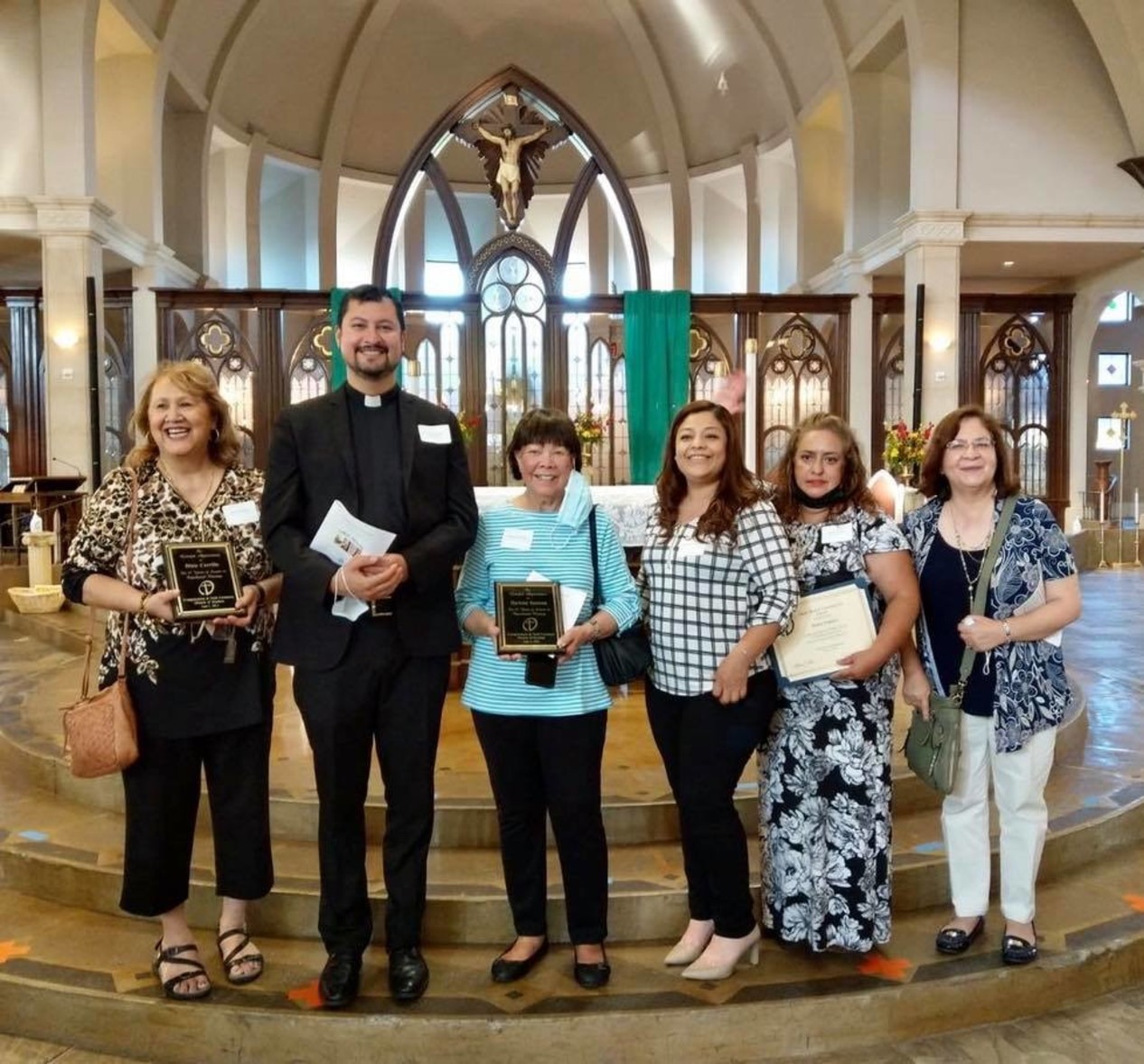 Thank you for your dedication, your example, your closeness to God's people in their daily lives, and all the many ways you plant and nurture the seeds of faith. - Pope Francis
Family Resources ~ Recursos para la Familia
During these new and challenging times, let us rember that Christ is always with us. Our first teachers are our parents. So, below you'll find online-at-home resources to continue the Catholic faith with your youth.
Durante estos tiempos nuevos y desafiantes, recordemos que Cristo siempre está con nosotros. Nuestros primeros maestros son nuestros padres. Entonces, a continuación encontrará recursos en línea para continuar la fe Católica con sus hijos desde su hogar.
Resources for Families~ Recursos para Familias