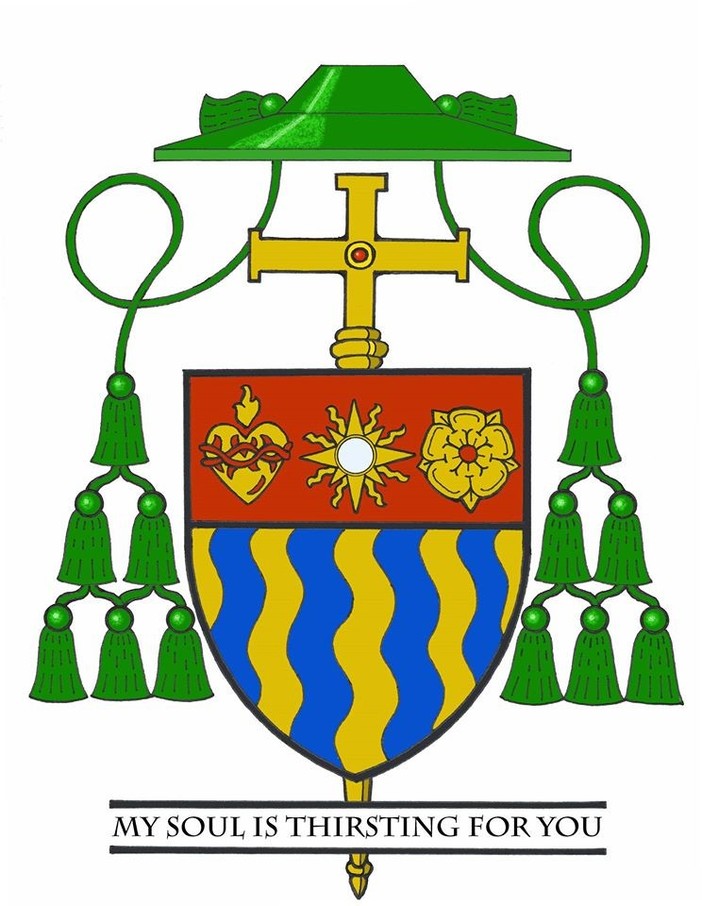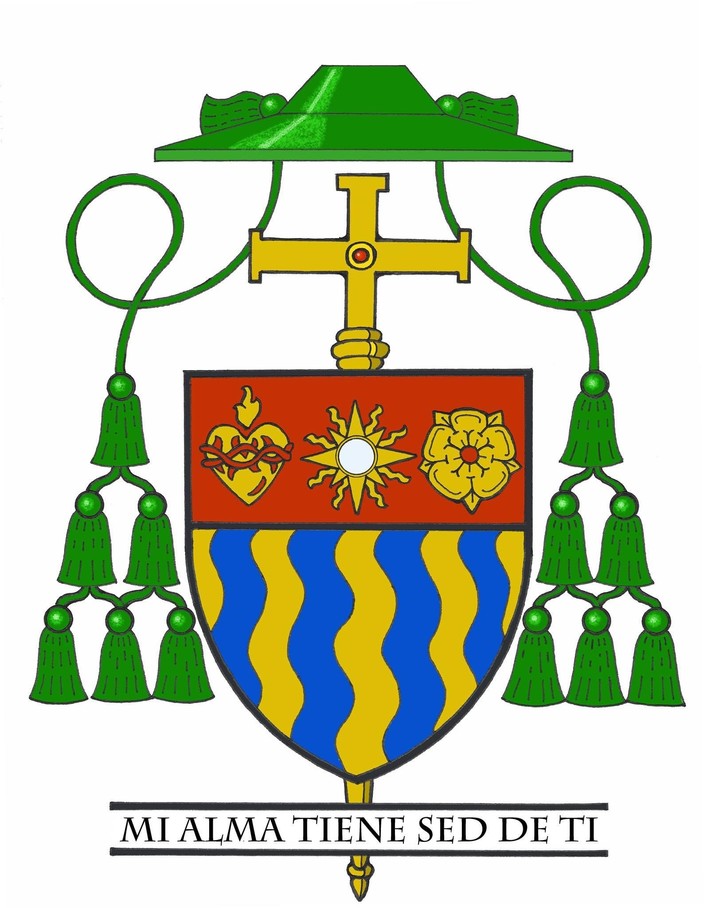 Titular Bishop of Carpi and Auxiliary Bishop of San Diego
The personal coat of arms assumed by Bishop Bejarano combines symbols that are meaningful to him reflecting his spiritual life and priestly ministry. The main part of the shield shows a gold background on which are four wavy vertical lines. These rep-resent flowing waters. This alludes to his chosen motto and symbolizes the graces that come from the Divine life to quench our thirst for God.
The upper third of the shield, called a "chief" is red because it is borrowed for the coat of arms of the Order of Mercy, the Mercedarians, of which the bishop's patron saint, Raymond Nonnatus, was a member. The central symbol resembles a monstrance be-cause St. Raymond is often depicted artistically holding a monstrance. Furthermore, the Eucharist is, for Bishop Bejarano, the inspiration for his priestly vocation. It was through the Eucharist that he received his call to the priesthood at age seven and which keeps his faith and his ministry going. It represents the call to offer oneself as a living sacrifice.
The monstrance is flanked on either side by an image of the Sacred Heart alluding to the mercy of God and echoing the idea of a sacrificial offering of oneself united to the sacrifice of Christ and of a rose for Our Lady. In particular, it is an allusion to Our La-dy of Guadalupe, patroness of the Americas. This is for the bishop's Hispanic heritage. In connection with the appearance of Our Lady to Juan Diego the miraculous bloom-ing of roses in December occurred.
The motto below the shield is, "My Soul Is Thirsting for You" from Psalm 63. He chose this because he sees it as also connected with St. Augustine's phrase about our restless heart. ("Our hearts are restless, O God, until they rest in Thee") The human heart seeks God, and Bishop Bejarano sees the need for evangelization for so many thirsting souls.
The armorial bearings of Bishop Bejarano were designed, blazoned and rendered by the Rev. Guy Selvester a priest of the Diocese of Metuchen, New Jersey.
Blasón y explicación del escudo de armas del Reverendísimo Ramón Bejarano, DD
Obispo titular de Carpi y obispo auxiliar de San Diego
El escudo de armas personal asumido por el obispo Bejarano combina símbolos que son significativos para él y reflejan su vida espiritual y su ministerio sacerdotal. La parte principal del escudo muestra un fondo dorado en el que hay cuatro líneas verticales onduladas. Estas representan aguas que fluyen. Esto alude a su lema elegido y también simboliza las gracias que provienen de la vida Divina para saciar nuestra sed de Dios.
El tercio superior del escudo, llamado "jefe", es rojo porque está prestado para el escudo de armas de la Orden de la Merced, o Mercedarios, de los cuales era miembro el santo patrón del obispo, Ramón Nonato. El símbolo central se asemeja a una custodia porque San Ramón a menudo se representa artísticamente sosteniendo una custodia. Además, la Eucaristía es, para el obispo Bejarano, la inspiración de su vocación sacerdotal. Fue a través de la Eucaristía que recibió su llamado al sacerdocio a los siete años y que mantiene su fe y su ministerio en marcha. Representa el llamado a ofrecerse como un sacrificio vivo.
La custodia está flanqueada a ambos lados por una imagen del Sagrado Corazón aludiendo a la misericordia de Dios y haciendo eco de la idea de una ofrenda sacrificial unida al sacrificio de Cristo y de una rosa para Nuestra Señora. En particular, es una alusión a Nuestra Señora de Guadalupe, patrona de las Américas. Esto es por la herencia hispana del obispo. En relación con la aparición de Nuestra Señora a San Juan Diego, ocurrió la floración milagrosa de rosas en diciembre.
El lema debajo del escudo es, "Mi alma tiene sed de ti" del Salmo 63. Él eligió esto porque lo ve como también relacionado con la frase de San Agustín sobre nuestro corazón sin descanso. ("Nuestros corazones están inquietos, oh, Dios, hasta que descansen en Ti") El corazón humano busca a Dios, y el obispo Bejarano ve la necesidad de evangelizar a tantas almas sedientas.
El escudo de armas del obispo Bejarano fue diseñado, blasonado y hecho por el Rev. Guy Selvester, sacerdote de la diócesis de Metuchen, Nueva Jersey.
The Traveling Chalice ~ El Caliz Viajero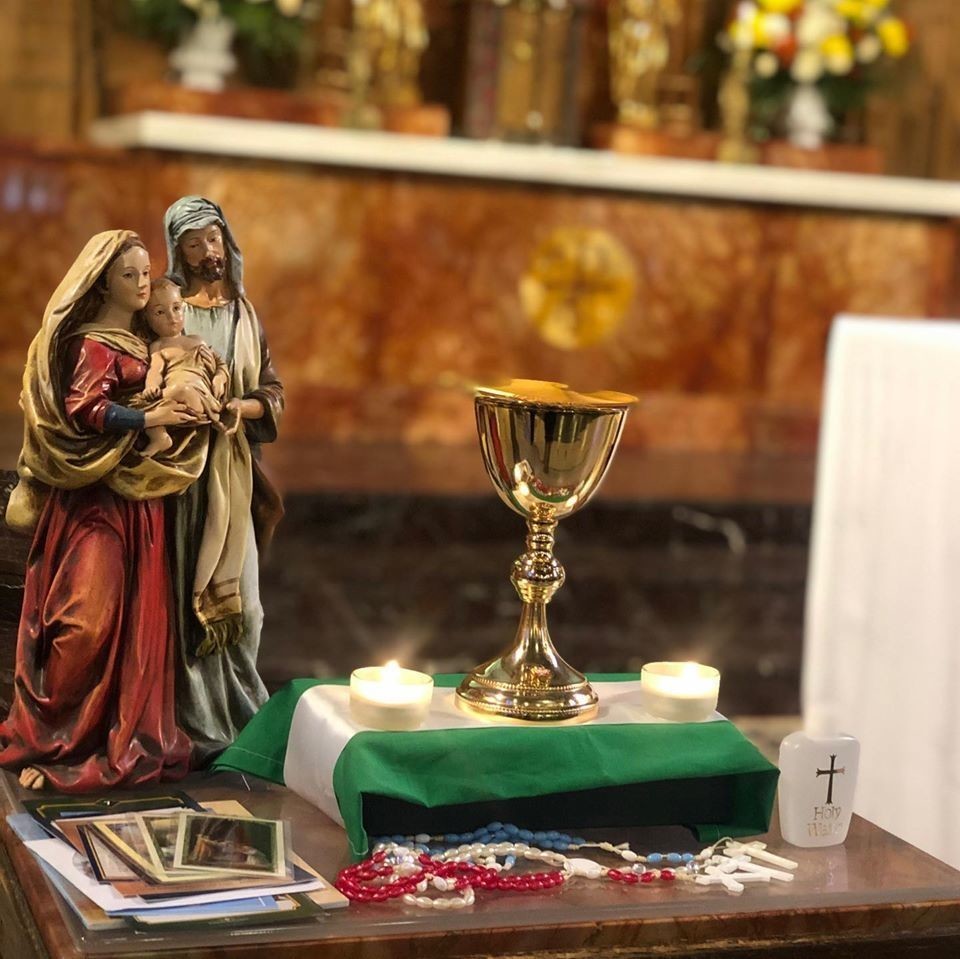 Message from Bishop Cotta