Let us rejoice and be glad!
The evening before the celebration of the Sacred Heart of Jesus and the Day of Prayer for the sanctification of priests, Bishop Cotta, announced that he has appointed the Rev. Luís Gerardo Navarro Hernández as the Administrator of the Cathedral of the Annunciation. Fr. Navarro is no stranger to the Cathedral. He is the Judicial Vicar of our Diocese and has been in residence here for few years. He was ordained on July 12th, 2008. He will continue to lead the tribunal working part time there and part time here. For this reason, Bishop Cotta has also announced that the Rev. Lawrence Machado has been appointed as Parochial Vicar. Fr. Machado was ordained a year ago on July 6th, and recently returned to the Diocese after finishing his postgraduate studies in Rome. The Rev. John Ngo will continue to be with us a parochial vicar. We are blessed to have a team of wonderful priests ministering our parish. Please, keep them in your prayers.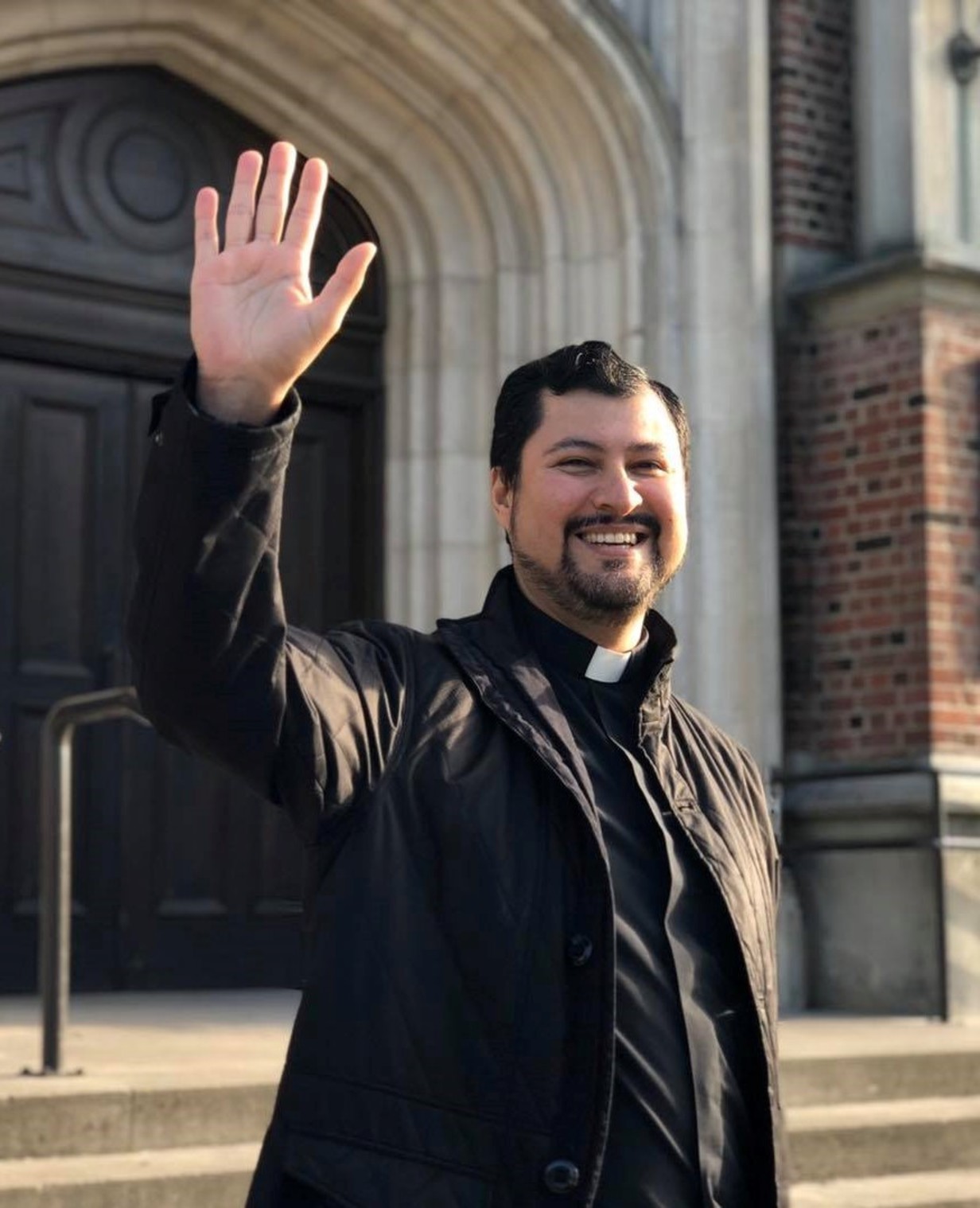 ¡Alegrémonos y gocémonos!
La tarde anterior a la celebración del Sagrado Corazón de Jesús y del Día de Oración por la santificación de los sacerdotes, el Obispo Cotta, anunció que ha nombrado al Rev. Luís Gerardo Navarro Hernández como Administrador de la Catedral de la Anunciación. El P. Navarro no es ajeno a la catedral. Él es el Vicario Judicial de nuestra Diócesis y ha estado en residencia aquí por algunos años. Fue ordenado el 12 de julio del 2008. Continuará dirigiendo el tribunal trabajando medio tiempo allí y medio tiempo aquí. Por esta razón, el obispo Cotta también ha anunciado que el Rev. Lawrence Machado ha sido nombrado vicario parroquial. El P. Machado fue ordenado hace un año el 6 de julio y recientemente regresó a la Diócesis después de terminar sus estudios de posgrado en Roma. El Rev. John Ngo seguirá estando con nosotros como vicario parroquial. Estamos bendecidos de tener un equipo de sacerdotes maravillosos que darán su ministerio nuestra parroquia. Por favor, manténganlos en sus oraciones.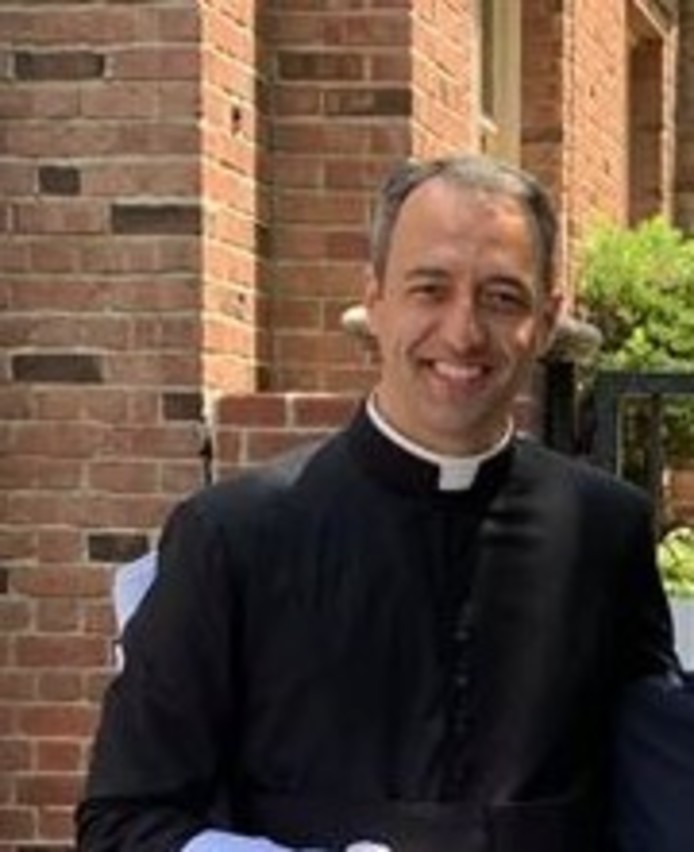 Sunday Mass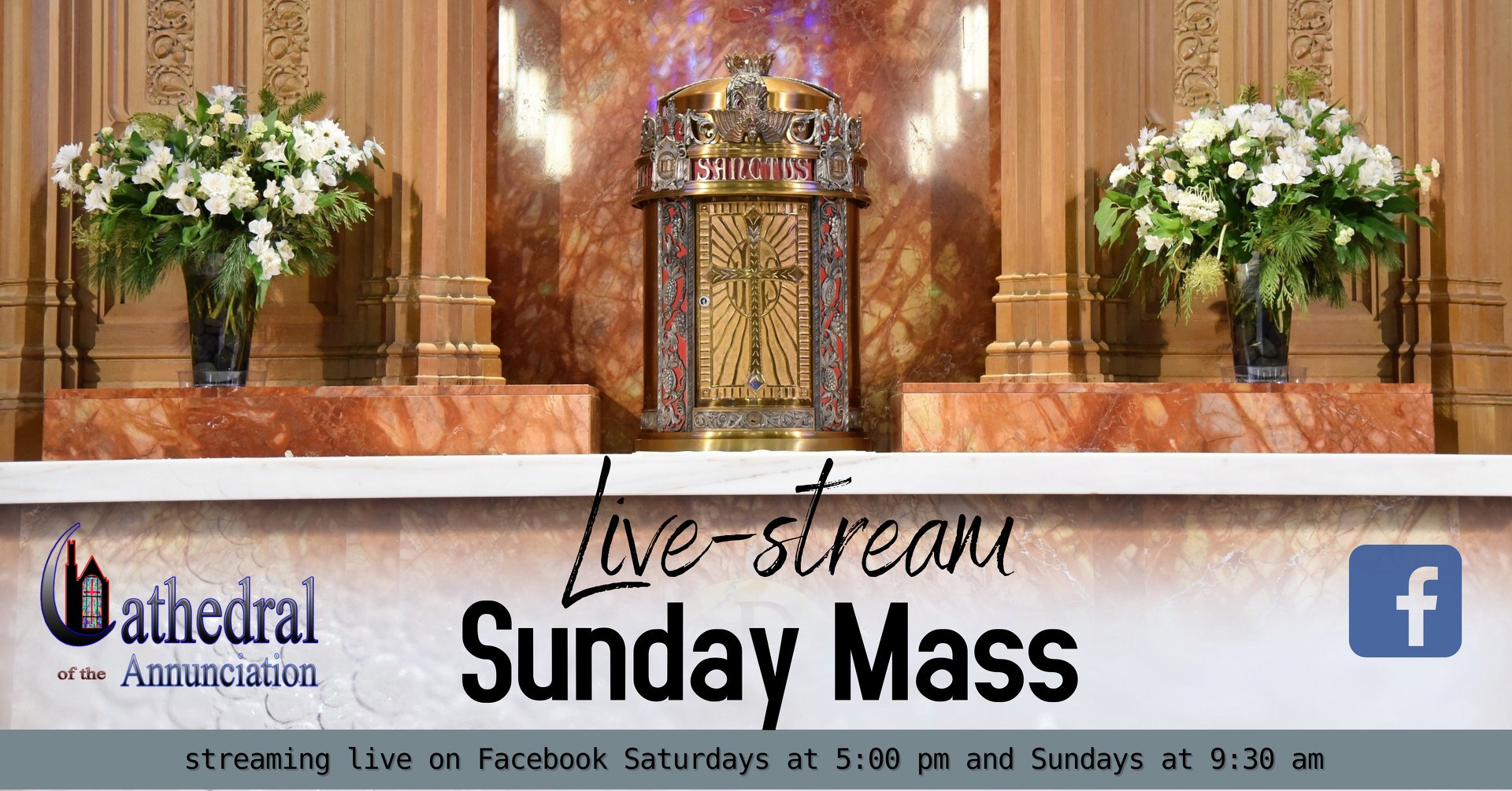 Misa Dominical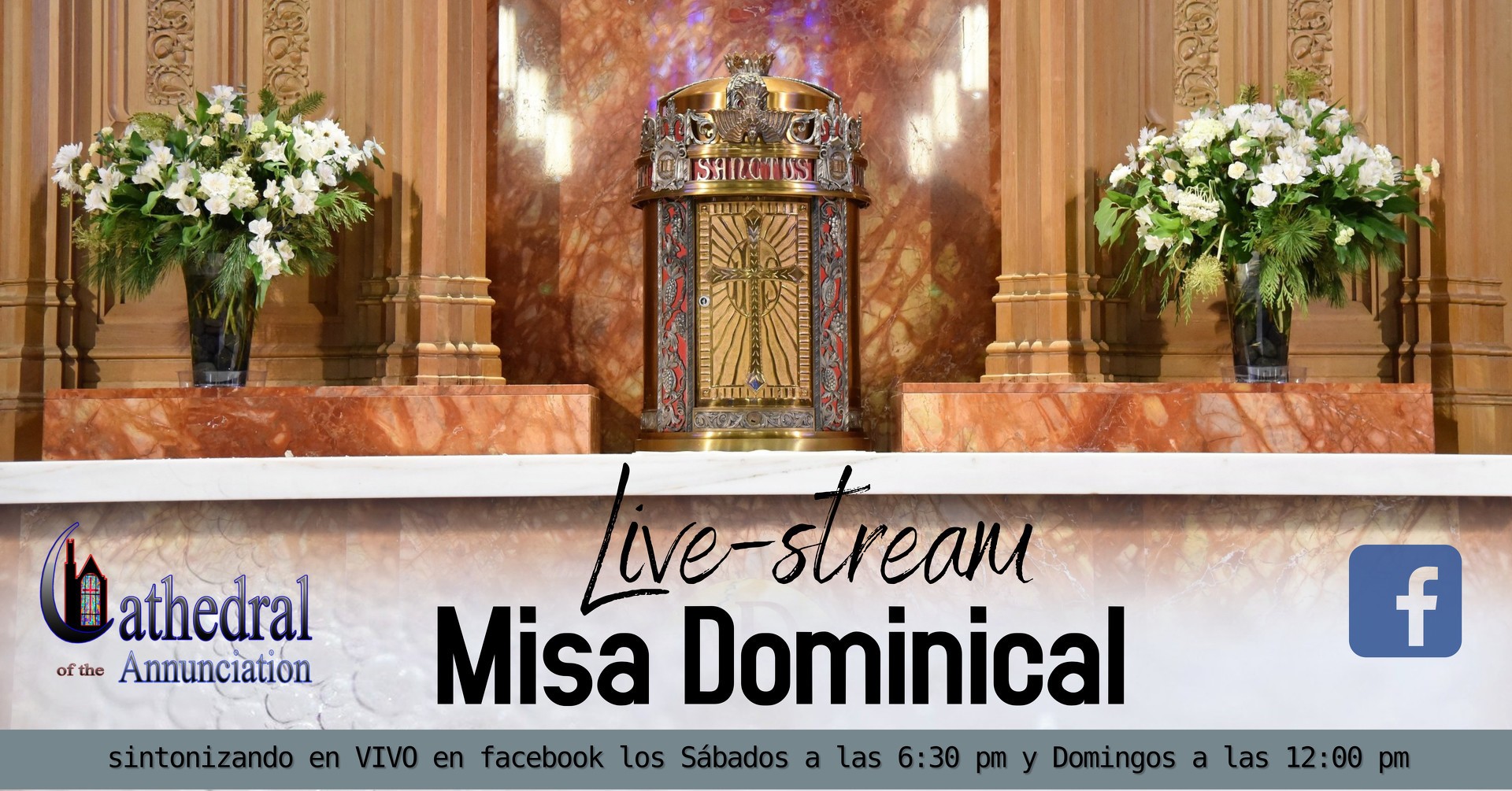 Attending Mass ~ Asistiendo a Misa
A guide for the faithful on returning to Mass
Guías para los feligreses para regreso a las misas públicas
Bishop Cotta's Message, Returning to Mass
Mensaje del Obispo Cotta, Regresando a Misa
CONFESSIONS
Dear parishioners,
We have confessions regularly on Wednesdays at 7:00 PM and Saturdays at 8:30 AM. There will be no more drive-through confessions.
We have strict guidelines that each penitent must follow in order to protect and safeguard the health and well-being of each individual. Please, remember that for those who are not able to go to confession at this time should be reminded that perfect contrition, with the intention to go to confession as soon as possible, obtains forgiveness of sins (cf. Catechism of the Catholic Church, 1452).
 The following guidelines must be strictly followed by each penitent:
Read the instructional signs and guidelines posted on the front doors of the church.
Anyone with slightest symptoms of the illness, including the confessor, must not practice the sacrament of confession.
Only enter the church through the front central door and leave through the side doors [on the left and right of the central door].
Sanitize your hands. Hand sanitizer will be available near the front entrance.
The penitent and the confessor must wear a mask which covers the nose and mouth at the moment they enter church and always keep it on until they leave church.
The central aisle is marked 6ft apart for physical distancing, so please stand on the mark in the central aisle to avoid the possibility of infection and wait for your turn.
When you are done with the confession, please, sanitize your chair and leave the church immediately through the side aisles. Thanks.
CONFESIONES
Estimados feligreses,
Tenemos confesiones regularmente los miércoles a las 7:00 p.m. y los sábados a las 8:30 a.m. No habrá más confesiones en el vehículo.
Tenemos pautas estrictas que cada penitente debe seguir para proteger y salvaguardar la salud y el bienestar de cada individuo. Por favor, recuerde que para aquellos que no pueden confesarse en este momento, se les recuerda que la contrición perfecta, con el firme propósito de recurrir cuanto antes a la confesión sacramental, obtiene el perdón de los pecados, incluso mortales (cf. Catecismo de la Iglesia Católica, 1452).
Las siguientes pautas deben ser estrictamente seguidas por cada penitente:
Lea las señales de instrucción y las pautas publicadas en las puertas principales de la iglesia.
Cualquier persona con síntomas leves de la enfermedad, incluido el confesor, no debe practicar el sacramento de la confesión.
Solo ingrese a la iglesia por la puerta central y salga por las puertas laterales [a la izquierda y derecha de la puerta central].
Desinfecte sus manos. El desinfectante para manos estará disponible cerca de la entrada principal.
El penitente y el confesor deben usar una máscara que cubra la nariz y la boca en el momento en que ingresan a la iglesia y mantenerla siempre puesta hasta que salgan de la iglesia.
El pasillo central está marcado con una separación de 6 pies para distancia física, por lo tanto, párese en la marca en el pasillo central para evitar la posibilidad de infección y espere su turno.
Cuando haya terminado con la confesión, desinfecte su silla y salga de la iglesia inmediatamente por los pasillos laterales. Gracias.
Adoration with the Blessed Sacrament
Every Thursday, the doors of the church will be open for Adoration with the Blessed Sacrament.
Adoration will be from 9:00 AM to 8:00 PM.
We need to make sure there is someone present during the Eucharistic Exposition. Please sign up HERE or call the office Monday through Friday between 10:00 AM to 3:00 PM to let us know which hour you can come. There is a limited amount of people we can have inside the building at the same time. If you come as a family, let us know how many of you are coming. If you are available to take the same hour every Thursday, please, let us know.
Please take note of the following,
People at most risk or who might feel sick, should stay at home.
The main door of the church will be wide open to minimize contact.
There will be marked pews where the faithful can sit.
Those areas will be sanitized periodically. If you can help sanitize the area you used, it is deeply appreciated. There will be resources available to do that.
We ask that you wear a mouth cover or mask. There is no need to wear gloves.
Keep social distancing at all times.
Bring your own books or devotionals.
Prayer will be in silence.
Make this time with Jesus count. Take advantage to be intimately united to Him. Pray that soon we will be able to receive him in the Eucharist.
Church door will be closed at 8:00 PM.
Adoración con el Santísimo Sacramento
Todos los Jueves, las puertas de la iglesia estaran abiertas para la Adoración con el Santísimo Sacramento.
La adoración será de 9:00 a.m. a 8:00 p.m.
Necesitamos asegurarnos de que haya alguien presente durante la Exposición Eucarística. Regístrese aquí web o llame a la oficina de lunes a viernes de 10:00 a.m. a 3:00 p.m. para informarnos a qué hora puede venir. Hay una cantidad limitada de personas que podemos tener dentro del edificio al mismo tiempo. Si viene en familia, díganos cuántos de ustedes vendrán. Si está disponible para tomar la misma hora todos los jueves, háganoslo saber.
Por favor tome nota de lo siguiente,
Las personas con mayor riesgo o que se sientan enfermas deben quedarse en casa.
La puerta principal de la iglesia estará abierta para minimizar contacto.
Habrá bancas marcadas donde los fieles pueden sentarse.
Esas áreas serán desinfectadas periódicamente. Si puede ayudar a desinfectar el área que utilizó, se lo agradecemos de corazón. Habrá recursos disponibles para hacer eso.
Le pedimos que use un cubre bocas o mascara. No hay necesidad de usar guantes.
Mantenga el distanciamiento social en todo momento.
Traiga sus propios libros o devocionales.
La oración será en silencio.
Haga que este tiempo con Jesús cuente. Aproveche para estar unido íntimamente a Él. Ore para que pronto podamos recibirlo en la Eucaristía.
La puerta de la iglesia estará cerrada a las 8:00 p.m.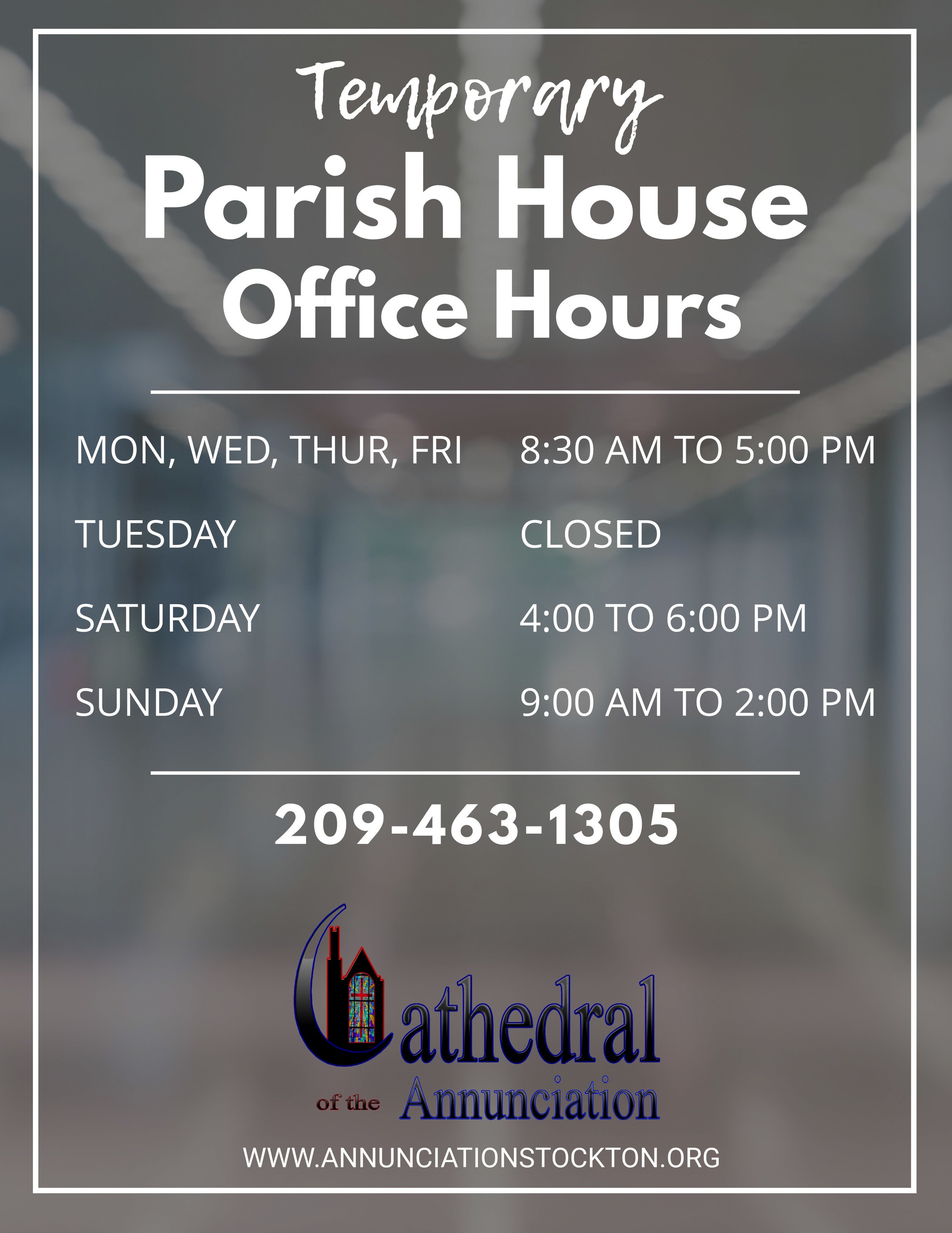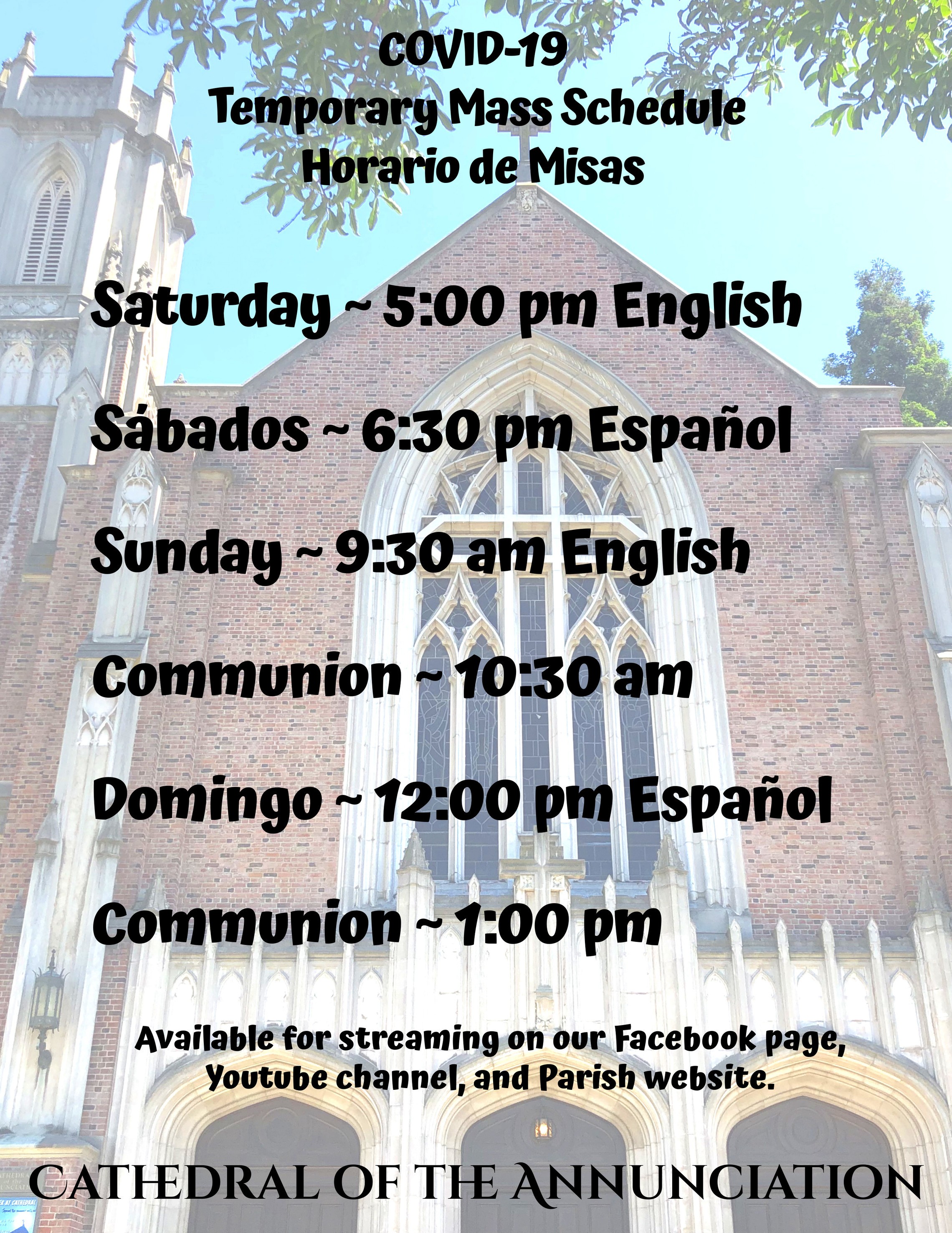 Boardcasted Masses- Misas y más
Bishop Barron: "Friends, in an effort to continue the practice of our faith in these trying times, when many parishes have closed due to restrictions around the coronavirus, we invite you to join us online for daily Mass from my chapel. The celebrant will either be myself or Fr. Steve Grunow, the CEO at Word on Fire." You can find all the videos at https://wordonfire.org/daily-mass
Radio
Relevant Radio- 5:30pm Weekday Mass; 7:00am and 5:30pm Sunday Mass
Stockton- 1230AM KWG
Stockton- 92.7 FM K224FB
Modesto- 840AM KMPH
Modesto- 1250AM KHOT
TV
KQCA 58.1, Sundays at 8:00am
KBCW 44.1- Sundays 6:30am
FOX 40.1- Sundays 5:30am
KTSF- 26.1- Sundays 6:00am
KOFY- 20.4- Sundays 6:00am
KOFY- 20.1- Sundays 6:00am