Opening Our Church Doors
Dear friends,
I am thrilled to know that our churches will be open soon to celebrate the gift of the Eucharist. I am happy to see also the joy of many faithful who are inquiring if we will begin this weekend. The truth is that as eager as we are to open the church for Mass, there are guidelines and requirements we need to achieve before we can do so. Our church priority is not only to safeguard the spiritual well-being of every individual, but their physical well-being as well.
Besides writing guidelines for our concrete circumstances, we need to train our staff and others on how to implement and follow them. There are several supplies we are required to have, like hand sanitizer, cleaning supplies to disinfect pews and other common areas, touchless thermometers, signs to guide people, disposable gloves, etc. We need to gather and train teams to sanitize the pews after each service. We need to have a system in place for people to register for the Mass they will be attending, since we are allowed at this time to have only 100 people. We are also dividing our seating space to accommodate the six feet social distancing required, and we need to have some extra mouth covers for those who do not bring one. 
We are working as expeditiously as possible, but as you know, finding some of the supplies right now is difficult. I heard that the touchless thermometers are on back order until the end of June. By the way, if anyone of you is making cloth mouth covers and would like to donate some, please let us know. Keep constantly checking our media for the announcement of our first Masses, which hopefully will be very soon. Our Bishop, Myron Cotta, is recommending to all of us to make the effort to be ready to start on June, 14th, the Feast of Corpus Christi. 
Blessings and peace to all,
Fr. Ramon
Abriendo las puertas de nuestra iglesia
Queridos amigos,
 
 Me emociona saber que nuestras iglesias estarán abiertas muy pronto para celebrar el don de la Eucaristía. Me alegra ver también el contento de muchos fieles que preguntan si comenzaremos este fin de semana. La verdad es que, aunque estamos ansiosos por abrir la iglesia para la Misa, hay guías y requisitos que debemos cumplir antes de poder hacerlo. La prioridad de nuestra iglesia no es solo cuidar el bienestar espiritual de cada individuo, sino también su bienestar físico.

 Además de escribir guías para nuestras circunstancias concretas, necesitamos capacitar a nuestro personal y a otros sobre cómo implementarlas y seguirlas. Hay varios productos que debemos tener, como desinfectante de manos, productos de limpieza para desinfectar las bancas y otras áreas comunes, termómetros de no contacto, letreros para guiar a las personas, guantes desechables, etc. Necesitamos reunir y entrenar equipos para desinfectar las bancas después de cada servicio. Necesitamos tener un sistema para que las personas se registren para la Misa a la que asistirán, ya que en este momento se nos permite tener solo 100 personas. También estamos dividiendo nuestro espacio de asientos para acomodar el distanciamiento social de seis pies requerido, y necesitamos tener algunos cubrebocas adicionales para aquellos que no traen uno.
 
Estamos trabajando lo más rápido posible, pero como saben, encontrar algunos de estos productos en este momento es difícil. Escuché que los termómetros de no contacto están en lista de espera hasta finales de junio. Por cierto, si alguno de ustedes está haciendo cubrebocas de tela y desea donar algunas, háganoslo saber. Continuamente revisen nuestros medios para el anuncio de nuestras primeras Misas, que esperamos sea muy pronto. Nuestro Obispo, Myron Cotta, nos esta recomendando que nos esforcemos en tener todo listo para comenzar el 14 de junio, Fiesta de Corpus Christi.
Bendiciones y paz a todos,
P. Ramón
Drive-Through Confessions
We are offering Drive-Through confessions on Wednesdays from 6:00 to 7:00 PM. We must continue to follow the stay-at-home order to protect ourselves and others. We are offering this opportunity only for the faithful who have the urgency of the sacrament. For those who can go to confession later, remember what the Apostolic Penitentiary quoted from the Catechism of the Catholic Church,
"Where the individual faithful find themselves in the painful impossibility of receiving sacramental absolution, it should be remembered that perfect contrition, coming from the love of God, beloved above all things, expressed by a sincere request for forgiveness (that which the penitent is at present able to express) and accompanied by votum confessionis, that is, by the firm resolution to have recourse, as soon as possible, to sacramental confession, obtains forgiveness of sins, even mortal ones (cf. CCC, no. 1452)."
Please, follow these norms:
Drive to the church parking lot next to the plaza and follow the arrows.
Remain in your vehicle at all times.
No other people can be inside with you in the vehicle.
Stop where the stop sign will be positioned. When it is your turn move to the priest and park next to the cones.
Lower your window and do your confession. Keep your voice normal. There is no need to yell.
Confession should be brief to avoid the less possible exposure. It is helpful to do a good examination of conscience and write on a piece of paper the sins you need to confess. Please, do not elaborate.
After receiving your penance and absolution, drive away from the parking lot. If you wrote your confession on a piece of paper, destroy it.
Go in peace.
Confesiones en el vehículo
Estamos ofreciendo confesiones en su vehículo los miércoles de 6:00 a 7:00 PM. Debemos continuar siguiendo la orden de quedarse-en-casa para protegernos a nosotros mismos y a los demás. Estamos ofreciendo esta oportunidad solo para los fieles que tienen la urgencia del sacramento. Aquellos que pueden confesarse después, recuerden lo que la Penitenciaria Apostólica citó del Catecismo de la Iglesia Católica,
"Cuando el fiel se encuentre en la dolorosa imposibilidad de recibir la absolución sacramental, debe recordarse que la contrición perfecta, procedente del amor del Dios amado sobre todas las cosas, expresada por una sincera petición de perdón (la que el penitente pueda expresar en ese momento) y acompañada de votum confessionis, es decir, del firme propósito de recurrir cuanto antes a la confesión sacramental, obtiene el perdón de los pecados, incluso mortales (cf. Catecismo, n. 1452).
Favor de seguir estas normas:
Conduzca hasta el estacionamiento de la iglesia al lado de la plaza y siga las flechas.
Permanezca en su vehículo todo el tiempo.
Ninguna otra persona debe estar con usted en el vehículo.
Deténgase donde se esta la señal de alto. Cuando sea su turno, muévase hacia el sacerdote y estacione su vehículo al lado de los conos.
Baje la ventana y haga su confesión. Mantenga su voz normal. No hay necesidad de gritar.
La confesión debe ser breve para evitar la menor exposición posible. Es útil hacer un buen examen de conciencia y escribir en un papel los pecados que necesita confesar. Por favor, no elabore o de explicaciones.
Después de recibir la penitencia y la absolución, salga del estacionamiento. Si escribió su confesión en una hoja de papel, destrúyala.
Vaya en paz.
Adoration with the Blessed Sacrament
Every Thursday, the doors of the church will be open for Adoration with the Blessed Sacrament.
Adoration will be from 9:00 AM to 8:00 PM.
We need to make sure there is someone present during the Eucharistic Exposition. Please sign up HERE or call the office Monday through Friday between 10:00 AM to 3:00 PM to let us know which hour you can come. There is a limited amount of people we can have inside the building at the same time. If you come as a family, let us know how many of you are coming. If you are available to take the same hour every Thursday, please, let us know.
Please take note of the following,
People at most risk or who might feel sick, should stay at home.
The main door of the church will be wide open to minimize contact.
There will be marked pews where the faithful can sit.
Those areas will be sanitized periodically. If you can help sanitize the area you used, it is deeply appreciated. There will be resources available to do that.
We ask that you wear a mouth cover or mask. There is no need to wear gloves.
Keep social distancing at all times.
Bring your own books or devotionals.
Prayer will be in silence.
Make this time with Jesus count. Take advantage to be intimately united to Him. Pray that soon we will be able to receive him in the Eucharist.
Church door will be closed at 8:00 PM.
Adoración con el Santísimo Sacramento
Todos los Jueves, las puertas de la iglesia estaran abiertas para la Adoración con el Santísimo Sacramento.
La adoración será de 9:00 a.m. a 8:00 p.m.
Necesitamos asegurarnos de que haya alguien presente durante la Exposición Eucarística. Regístrese aquí web o llame a la oficina de lunes a viernes de 10:00 a.m. a 3:00 p.m. para informarnos a qué hora puede venir. Hay una cantidad limitada de personas que podemos tener dentro del edificio al mismo tiempo. Si viene en familia, díganos cuántos de ustedes vendrán. Si está disponible para tomar la misma hora todos los jueves, háganoslo saber.
Por favor tome nota de lo siguiente,
Las personas con mayor riesgo o que se sientan enfermas deben quedarse en casa.
La puerta principal de la iglesia estará abierta para minimizar contacto.
Habrá bancas marcadas donde los fieles pueden sentarse.
Esas áreas serán desinfectadas periódicamente. Si puede ayudar a desinfectar el área que utilizó, se lo agradecemos de corazón. Habrá recursos disponibles para hacer eso.
Le pedimos que use un cubre bocas o mascara. No hay necesidad de usar guantes.
Mantenga el distanciamiento social en todo momento.
Traiga sus propios libros o devocionales.
La oración será en silencio.
Haga que este tiempo con Jesús cuente. Aproveche para estar unido íntimamente a Él. Ore para que pronto podamos recibirlo en la Eucaristía.
La puerta de la iglesia estará cerrada a las 8:00 p.m.
Sunday Mass, LIVE, Saturdays @ 5pm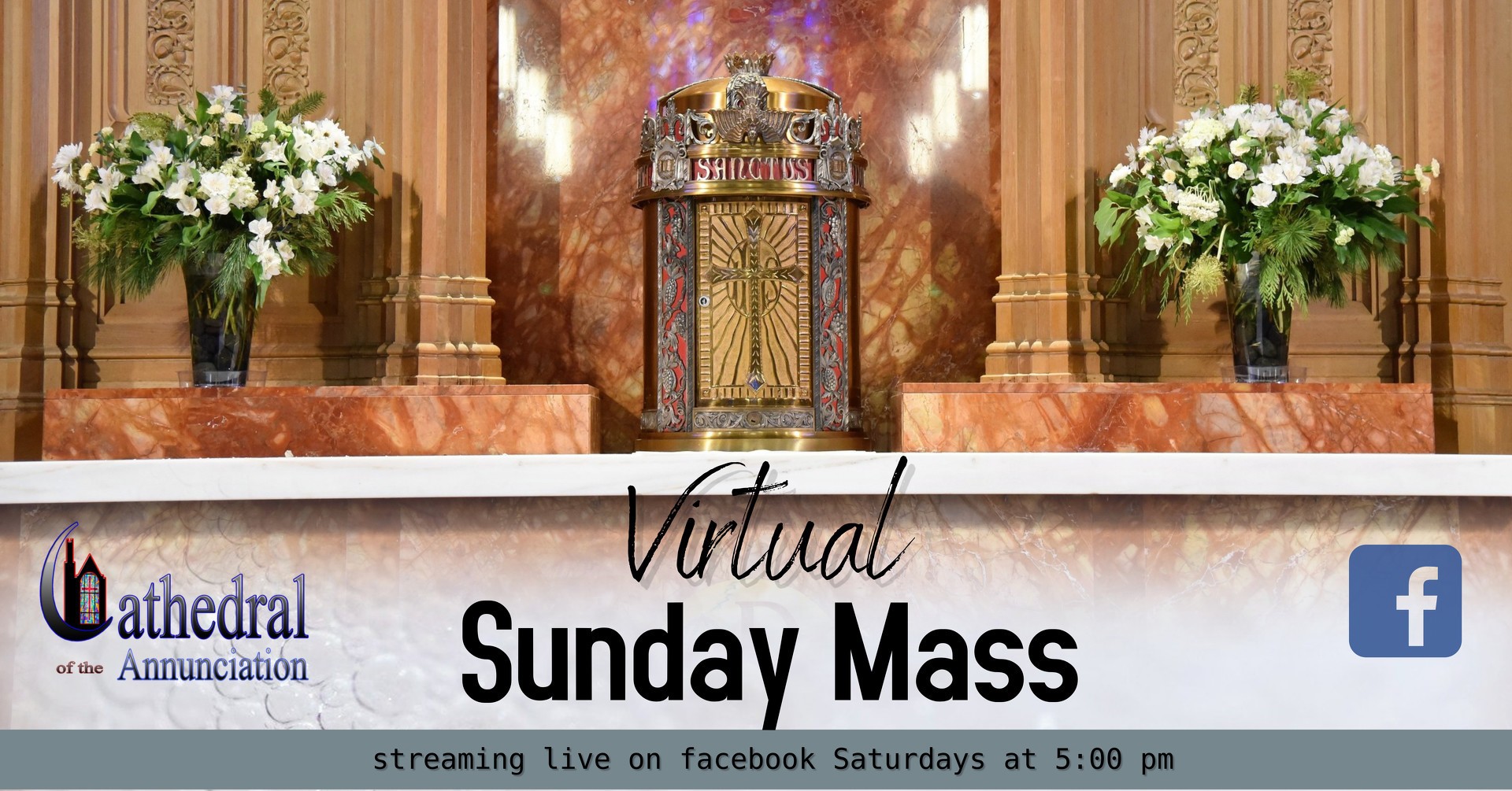 Misa Dominical, Sábados @ 6:15pm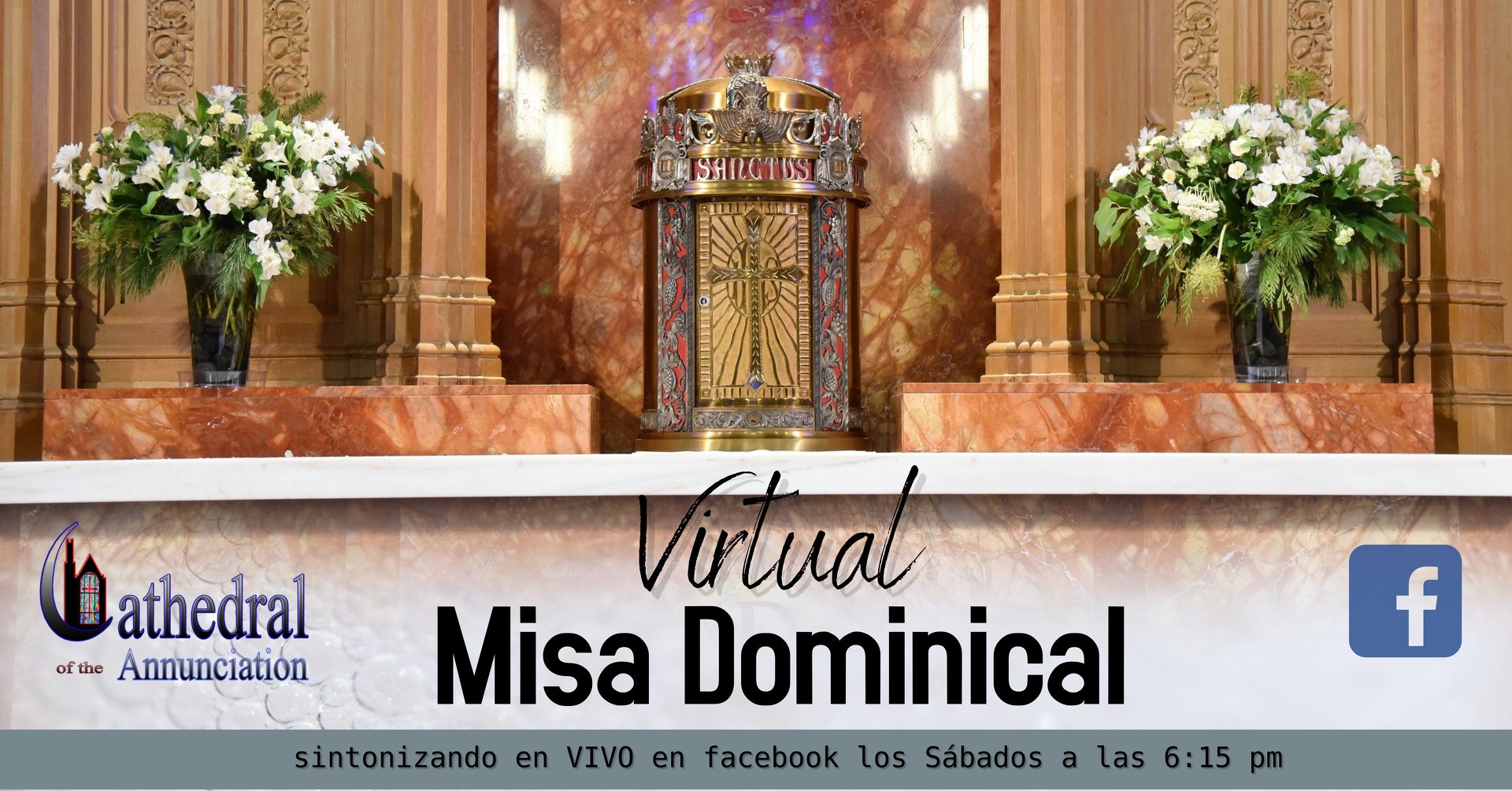 Daily Mass ~ Misas Diarias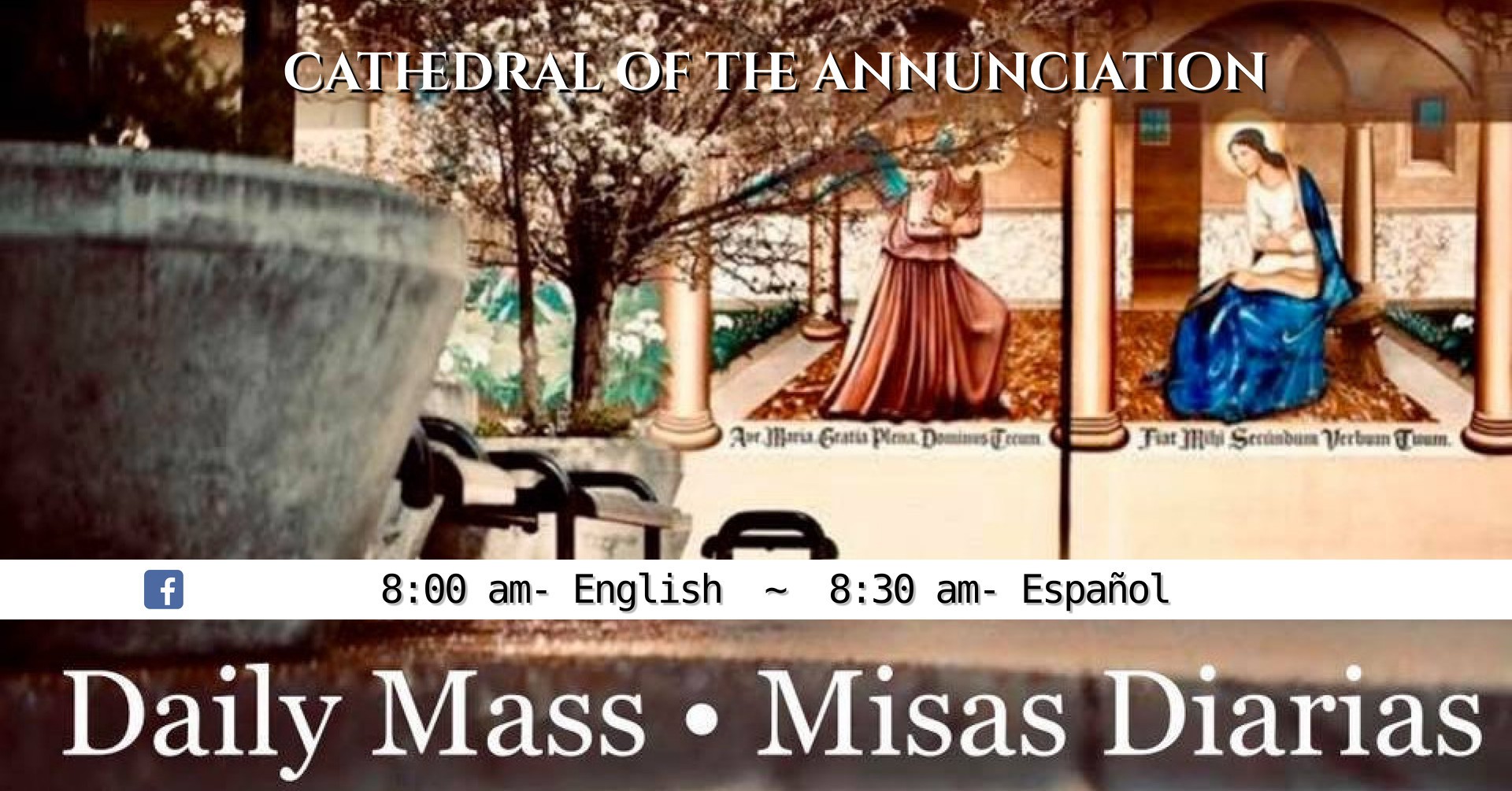 Boardcasted Masses- Misas y más
Bishop Barron: "Friends, in an effort to continue the practice of our faith in these trying times, when many parishes have closed due to restrictions around the coronavirus, we invite you to join us online for daily Mass from my chapel. The celebrant will either be myself or Fr. Steve Grunow, the CEO at Word on Fire." You can find all the videos at https://wordonfire.org/daily-mass
Radio
Relevant Radio- 5:30pm Weekday Mass; 7:00am and 5:30pm Sunday Mass
Stockton- 1230AM KWG
Stockton- 92.7 FM K224FB
Modesto- 840AM KMPH
Modesto- 1250AM KHOT
TV
KQCA 58.1, Sundays at 8:00am
KBCW 44.1- Sundays 6:30am
FOX 40.1- Sundays 5:30am
KTSF- 26.1- Sundays 6:00am
KOFY- 20.4- Sundays 6:00am
KOFY- 20.1- Sundays 6:00am